Tips for choosing Chinese powerbanks with Aliexpress
When choosing a Power bank please note the following criteria:
Capacity
From this indicator depends on how many charge cycles can provide poverbank on a single charge. Often there are models with a capacity of 10,000 – enough 2-3 times to charge the smartphone. If you purchase a powerbank and laptop, it is advisable to choose models with 20000-30000 mAh battery (the laptop battery to charge takes much more energy). If you want to save, consider and powerbank with a capacity of 5000 mAh, however, this poverbank enough for one charging of the phone.
Dimensions
As a rule, the higher the battery capacity, the greater its size. If you plan to regularly wear powerbank at school or work, it is best to choose devices of small size, because they are more convenient to carry in the bag, and on the table, they have a lot of places will not take.
Power bank with large size are more suitable for people who love to travel, because they don't need to take it often to connect to the network.
Connectors
The number of connectors depends on how many devices you can charge. If you use a smartphone, laptop, smart watches and other electronics, it is best to choose powerbank with 2-3 USB ports. If the battery is purchased exclusively for charging your smartphone or laptop, one USB output will be enough.
Charging speed
Some powerbank support fast charging Quick Charge. It allows you to charge a smartphone to 50% in half an hour. Such devices are recommended for purchase to students and those who have little free time. If the external battery does not come with support for this technology, it is recommended to make sure that charge speed is not inferior to a conventional outlet.
Compact powerbank with Aliexpress 2020
TOP 3 best Chinese powerbanks in 2020 with Aliexpress.
Tollcuudda – enabled wireless charging
Opens a rating of the compact powerbank inexpensive model with built-in wireless charging from Tollcuuda. Battery capacity of 10,000 mAh, so it will provide 2-3 full charge cycle. The manufacturer positions the model as universal, suitable for phone, tablet, camera, drones and other electronics.
The device supports wireless charging technology, so you don't need to insert wires to connect the phone to the power supply. Poverbank available in 2 designs: red and black. On the housing is located immediately 3 of the connector and you can charge several gadgets simultaneously. The charge level of the external battery is displayed on the LED display.
Pros:
compact;
stylish;
wireless charging;
low price.
Cons:
on the display accumulate fingerprints.
Pisen TTC2019A – stylish and spacious
Compact poverbank 10,000 mAh, made of durable plastic. A rare case where the manufacturer did not lie with the stated capacity. The dimensions of the device just 92х78х15 mm, so it is convenient to carry in a jacket pocket or bag. Pisen available in 3 colors: white, red and black. Charge the external battery is displayed on the LCD display.
The device has 2 USB outputs, you can simultaneously charge up to 2 gadgets. There is also support for fast charging, thanks to which the gadget is ready to use in 30 minutes.
Pros:
LCD display;
small size;
2 USB output;
support fast charging.
Cons:
Xiaomi Mi PLM10ZM – in the classical case
Relatively long, but light for its size poverbank with a stated capacity of 5000 mAh. It is enough for 1-2 charges. The device is made of a durable metal case, so easy to mechanical damage it is not terrible.
The model is designed exclusively for the smartphone and it supports quick charging. PLM10ZM surpasses analogues due to the build quality, and good compatibility with iOS and Android devices.
Pros:
small;
minimalist design;
a durable case.
Cons:
Powerbank for laptops with Aliexpress 2020
A rating of 3 best Power bank on Aliexpress in 2020.
ROMOSS Sense 8+ – almost 10 charging cycles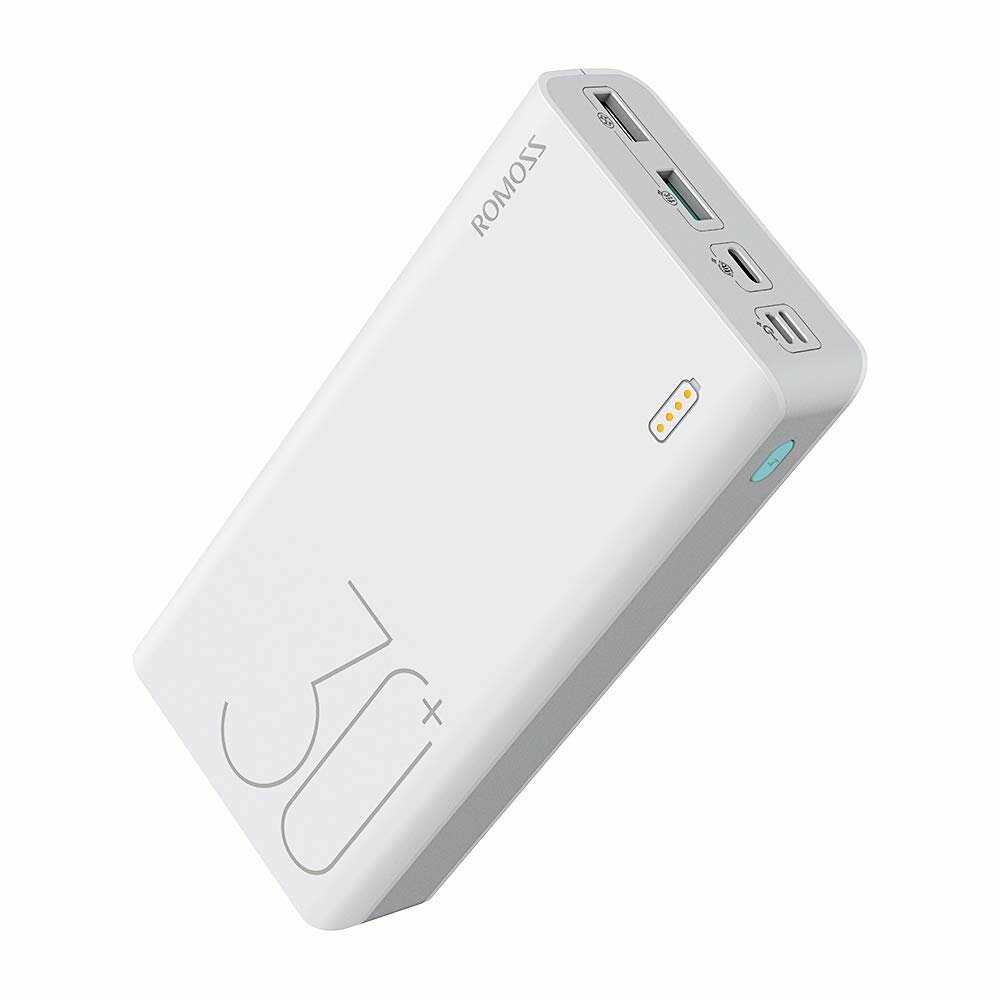 Large and roomy poverbank with capacity 30000 mAh. This versatile device charger is perfect for charging laptop, smartphone, tablet and other electronics. Battery weight 671 g with dimensions 167х80х32.8 mm, so it is recommended to buy it if you are not going to regularly carry the device along.
The model supports fast charging and is equipped with 6 different ports, including microUSB and two USB outputs, so to connect several gadgets at the same time.
Pros:
roomy;
lots of connectors;
fast charging.
Cons:
weighing approximately 700 g;
the capacity is a little less than stated.
Essager 20000 mAh with support for 4 devices simultaneously
Pros:
ergonomics;
versatility;
fast charging.
Cons:
Baseus 20000 mAh – universal poverbank
Quality poverbank with a large number of connectors: 2 USB, microUSB, iP, and Type-C. Thanks to this battery supports almost all gadgets. Is there a fast charging option.
This model has a medium size 143х65х26, and a lot of space in the bag it does not take. The device is available in 2 colors: white and black. Information about the battery charge is displayed on the digital display with backlight.
Users note that the actual capacity of poverbank less 20000 mAh, although the other criteria this unit is the best similar.
Pros:
versatility;
lots of connectors;
fast charging;
design.
Cons:
Powerbank with large capacity with Aliexpress 2020
TOP 3 poverbank from China with Ali.
Xiaomi Mi Power Bank 2 – stylish and ergonomic
Poverbank fast charging is housed in a solid metal case. The battery is located several connectors, including 2 USB ports and microUSB. Device capacity 10000 mAh is enough for 2-3 charging cycle, depending on the amount of battery smartphone. Poverbank weighs almost 300 grams with dimensions of 147.8х73.9х15.3 mm.
Pros:
classic housing;
ease of use;
the build quality is.
Cons:
ALLPOWERS 20000 mAh – bright, backlit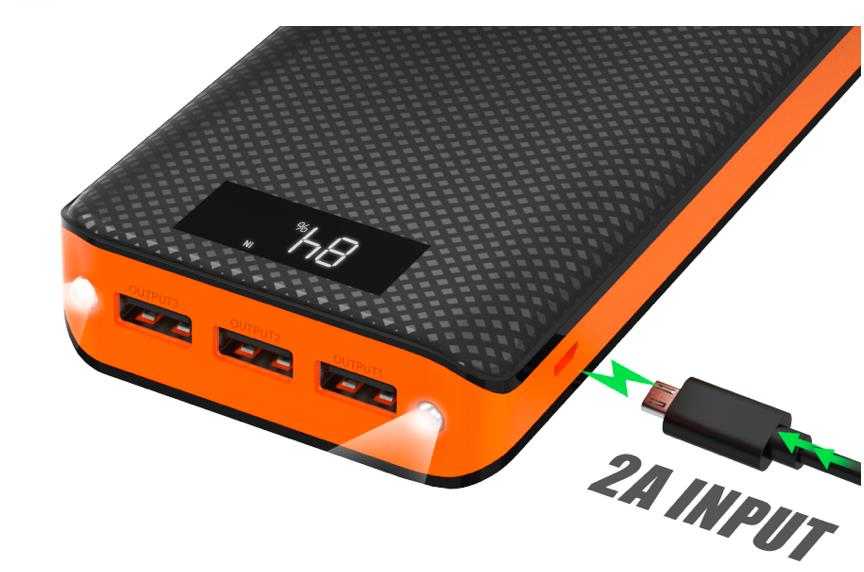 This model surpasses analogues from 2-m criteria: capacity 20000 mAh and 3 USB ports with simultaneous charging. In addition, the device is equipped with 2 bright led lights for illumination.
The case is made of durable plastic, protected by a special coating against chipping and scratches. All the external battery is charged for 15 hours is a good indicator for models with this capacity. The front side has a digital display, which displays the status of poverbank.
Pros:
capacity;
low price;
3 colors;
scratch resistance;
a large number of connectors.
Cons:
often, marriage in the production.
Vinsic VSPB304D – small but roomy
Quality poverbank made of high quality plastic. The device is suitable for charging smartphones, tablets and other gadgets. And thanks to its compact size 110х57х15 mm you can easily wear the gadget in the bag. The case has 2 USB Type-C connector and microUSB. The battery poverbank is displayed on the digital display at the top of the device.
The actual capacity of the device is slightly smaller 20000 mAh, about 17,000 mAh.
Pros:
good build quality;
multiple connectors;
digital display;
the compact dimensions.
Cons:
the capacity is smaller than 20000 mAh
Conclusion
Buy poverbank based on its purpose. If you want to carry an external battery, consider a model with a capacity of about 10000-20000 mAh and weighing no more than 200-250 g.
You will also enjoy: